Mac Removable media recovery software
$45
Mac Removable media data recovery software recovers deleted data from different types of digital storage media. USB digital media data recovery software for Apple Macintosh OS X is fully capable to recover your entire lost pictures, images, snapshots, mp3/mp4 files and other precious data from pen drives, key drives, jump drives, memory cards and other removable storage media.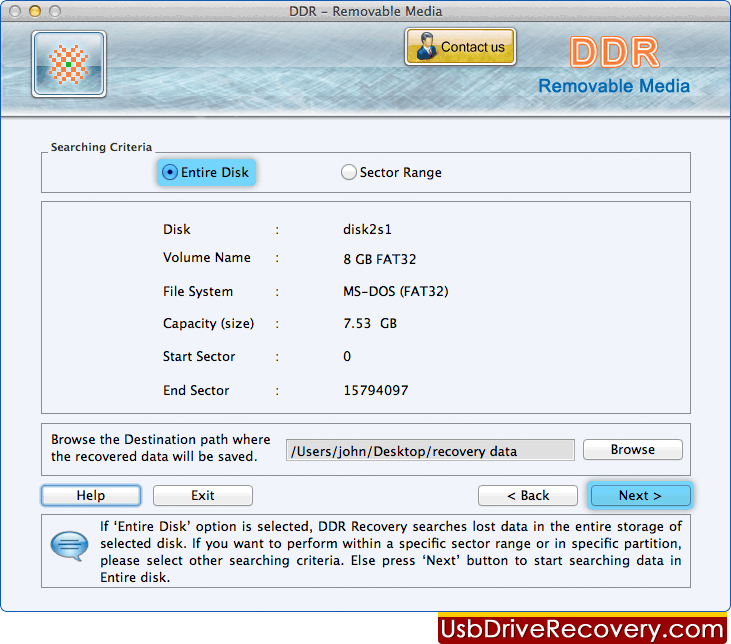 » Software Features:
Mac removable media file recovery software easily recovers entire lost files saved in different kinds of removable data storage media.
Data retrieval program for Mac OS X has inbuilt advanced disk scanning mechanism to search and recover all erased, missing or misplaced data.
Mac digital media data recovery program easily saves recovered data at user specified safe location on your Mac machine.
Mac removable media data restoration program supports lost data recovery from different types of removable storage media.
» Recovers lost data from:
Pen drives, Thumb drives, Jump drives
Key drives, Flash drives, Portable media players
Digital Audio player, SD card, Mini SD card
Micro SD card, SDHC card, Smart media
Micro drives, Handy drives and other removable storage devices
» Supports major brands of removable media:
Mac OS X Data recovery program for removable device is compatible with different removable media brands like Sandisk, Transcend, Kingston, cruzer and many more.